Main content starts here, tab to start navigating
Private Dining
Houston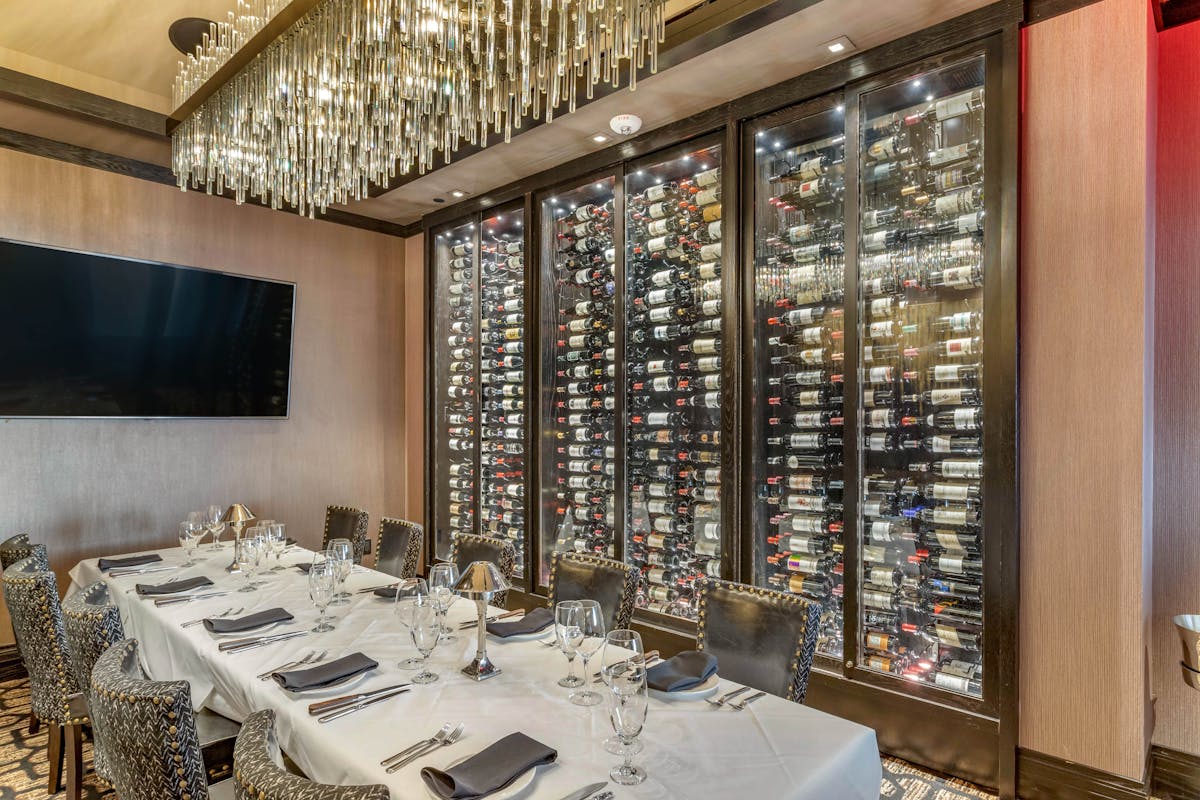 Mastro`s combines atmosphere, comfort, and elegance for the perfect setting for your next corporate, social or charitable event. Mastro`s courteous and professional staff can provide an unforgettable experience for you and your guests.
Our private dining rooms offer the perfect setting for your every type of event, but for something truly spectacular, the entire Steakhouse can be reserved exclusively for your private event.
Mastro`s looks forward to hearing from you.
DIRECTOR OF EVENTS
Candace Holley
713.993.2524
The Boardroom
Our Board Room is perfect for executive meetings, presentations or simply for a private dinner or any celebration need. The Board Room can accommodate up to 15 guests and features a 65-inch monitor along with other sophisticated amenities.
The exquisite décor includes an opulent crystal chandelier and a traditional board room style table. The Board Room is enclosed with a wine wall, adding to the elegant ambiance.
Capacity: Seated Maximum, 15 guests
Reserve a Space
The Mastro's Rooms
When combined, the Mastro's Rooms are the largest of our private rooms seating 30-90 guests. Both elegantly designed rooms provide a magnificent backdrop for any meeting or party. Each room is fitted with the latest technology and offers enough space to host a presentation, reception or intimate dinner.
Capacity: Seated Maximum, 90 guests
Seated, 36 guests in Mastro's 1
Seated, 42 guests in Mastro's 2
Reserve a Space
The Terrace Room
This beautifully designed room provides a fabulous setting for any occasion. The space features a sliding wall of glass, adjacent to our Terrace Patio should you want an open-air feel. Those booking this event space are also able to reserve an area of the patio, making it ideal for receptions.
Capacity: Seated Maximum, 36 guests
Reserve a Space
Full Restaurant Buyout
For the ultimate event, Mastro's Steakhouse Houston can be yours for the day. The Steakhouse offers 12,000 square feet of unique space. Mastro's spectacular food & service can be the dramatic home of your next event.
Reserve a Space
Terrace Patio and Lounge
Experience the perfect blend of outdoor elegance and exclusivity on our Terrace Patio, an ideal setting for hosting memorable gatherings. Combine the Patio Lounge to elevate your soirée, creating a versatile space that suits any occasion.
Capacity: Reception Maximum, 65-90 guests
Terrace Patio, 36 seated / 45 reception
Patio Lounge, 25 seated / 40 reception